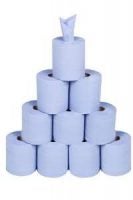 60 rolls Special Offer
Special Offer Center Feed Rolls 2ply Blue 10 cases for 6 Rolls, A great Deal and just what you asked for, @ Selco Hygiene Supplies,
The best Buy in general purpose wiper rolls, per 6 rolls.
Blue roll is ideal for use in commercial and domestic kitchens, especially food preparation areas. This 6 pack of 2-ply, recycled blue rolls is perfect for absorbing spillages, cleaning appliances and surfaces as well as drying hands. The centrefeed roll design allows these blue rolls to be used with or without a dispensers, creating a cost effective and very efficient paper roll dispensing unit, or on their own for a portable cleaning wipe.
2 Ply Embossed Catering Rolls,
Unit is 10 Cases of 6 rolls = 60 Rolls