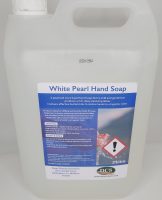 White Pearl is an Antibacterial luxury lotion hand soap, With a fresh fragrance that produces a rich lather,
As an antibac hand soap it offers you the best hand protection in hand hygiene.
Hygienic Bactericidal Hand Soap.
Due to high demand we may replace this product for similar high spec AntiBac product
Packed 4×5 litre white pearl per case
NEW and Improved Anti Bac White Pearl Hand Wash Soap.
Now with free 1 refill dispenser.