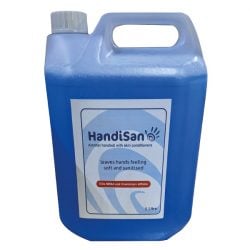 Gel Hand Sanitiser ideal for Refill of your Dispenser or pump bottles. Will reduce your cost by up to 50% with Refill.
This is a high quality alcohol sanitiser 70% that will help prevent the spread of germs and viruses.
Denatured alcohol-based hand sanitiser.

Effective quick drying sanitiser.

Handisan evaporates quickly on the hands.

4 x 5 Litre Bottle  20lts per case  IN STOCK
    NB: The FDA has stated that Ethanol or methanol product should not be used in hand sanitiser. 
NOTE Please note that due to the current health alert. shipping times are affected.
It is possible that this product may be substitute for one with the same characteristics for despatch,