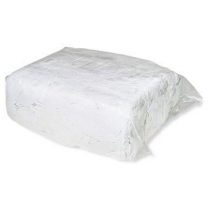 White Terry Towelling Rags 9kg vacuum packed bags
These super absorbent cleaning cloths made from cut up recycled hotel terry towels. During recycling passed through metal detectors to ensure no metal parts remain.
Use terry towelling cloths as a cheap and very cost effective wiping solution because they are reusable. Simply wash white terry towelling rags to remove dirt and stains.
As a result ideal for polishing or window cleaning. Hence, also called window cleaning rags.
Also referred to as a rag wiper, cleaning rags or bags of rags. However they are more absorbent than mixed colour rags for example made from old t-shirts.