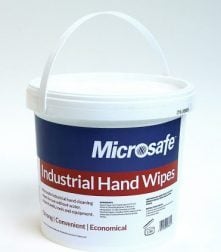 Hand Sanitiser Disinfectant Wipes,
150 Wet Wipes Per Tub, Proven to be effective against MRSA, E-Coli, Salmonella, Listeria monocytogenes, Germs, and Viruses Protection.
Let you customer stay safe with our hand sanitiser wipe,
Economical in use and child friendly.
Due to high demand Product may be substituted,
Microsafe Hand wipes contain an anti-bacterial cleaning solution, which is tough on grease, grime, inks, silicone and adhesives yet gentle and cleansing on skin. This product comes in a portable tub to facilitate use when standard washing facilities are not readily available.