Covid Sanitiser Certified. Fogger Safe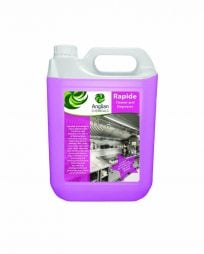 This Rapide Cleaner Sanitiser is safe for use on all hard surfaces,
•Certified BS EN 1276 certified solution with a required contact time of only 30 seconds.
• A sanitiser cleaner that has been developed for use on all water washable surfaces.
• Rinse-free, non-perfumed and non-tainting.
• Ideal general purpose and all hard surface cleaning.
• Extremely economical in use at 55:1 for heavy duty cleaning and sanitising.
Safe to use in all Foggers