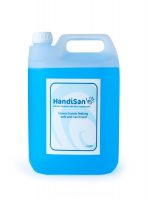 IPA BASED MEDICAL GEL SAFE HAND GEL
Alko Gel Hand Sanitiser ideal for refill of your Dispenser or pump bottles. It will reduce your cost per Refill.
This is a high quality alcohol sanitiser gel 70% that will help prevent the spread of germs and viruses.
Covid-19
                                           Packed 4×5 lt bottle     4 Bottles per case 20 Litres,
Handi San Gel Now In STOCK
Manufactured in Ireland.
National Chemical Research. Alcohol Gel PCS 100499
NOTE Please note that due to the current health alert. shipping times are affected. 2-3 days