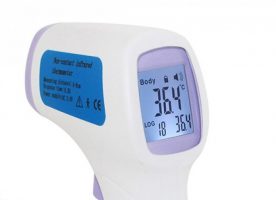 INFRARED BODY THERMOMETER        IN STOCK
Product performance: Accuracy: measurement deviation 0.2C. Speed: measurement time 1 second.
Easy to use: One-click measurement, easy to operate. Non-contact: For forehead measurement, do not touch the human skin, avoid cross-sense.
Fever alarm: Free to set alarm temperature. Number of use: button 100,000 times. Large screen display: large screen LCD white back light display, can read clearly at night.
Storage data: Store 100 measurement data for easy analysis and comparison. Setup modification: Settings parameters can be modified.
Contraindications: Not applicable. Special storage conditions and methods: Products must be kept clean and placed in a dry ground. Do not place an infrared thermometer in an electric shock. Do not place the infrared thermometer in an extreme temperature environment above 50 or below -20 and humidity above 95%. Technical index: : 1. Normal operating conditions: ambient temperature:15 ~35.Relative humidity :