The D300 is a static fogger suitable for all areas of disinfection,and sanitising.
This is a Fogger Not a Sprayer.
Foggers are total protection with minute particles.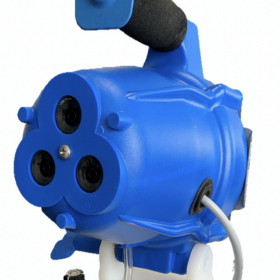 Available at all Selco Hygiene outlets in Ireland
DESCRIPTION
D300 Disinfecting Sanitiser Fogger can help kill 99.9% of air born virus.
Schools, Creches, shops, post offices, farms, greenhouses, warehouses, animal care facilities, sanitation, germicidal spraying and disease control programs are just a few of the markets where the D300 excels.
Features:
• Rugged design handles corrosive liquids and substantial impacts.
• Solid stainless steel metering valve for delivering  precise  outputs
• Low profile tank design virtually eliminates tipping…empty or full!
• Droplet sizes can be controlled from 5 to 50 microns
3.8 Litre Tank
 Some commonly misted solutions are:
Sanitisers• Insecticides• Disinfectants• Deodorizers• Fungicides
SELCO SPECIAL OFFER
FREE 10 Litres of Rapide Sanitiser for Killing Covid Virus.
Adjustable Flow: 0-17LPH
Droplet size: 5 – 50µ
Tank capacity 4L
Cable : 3.5M
Length: 30.48 cm
Width: 30.48 cm
Height: 35.6 cm
Weight (empty): 3 kg