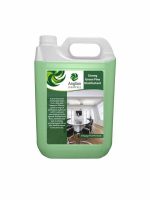 Pine disinfectant
Is a strong general purpose disinfectant suitable for use in hospitals, schools, nursing homes etc.
A fresh pine fragrance.
• A general purpose disinfectant with a clean smelling pine fragrance, effective against a range of pathogenic organisms which is safe and non-tainting.
• Contains a quaternary ammonium bactericide which conforms to BS6424 Grade QAP 30.
• Ideal for the general disinfection of floors, lavatories and walls in schools, nursing homes, offices, vets, medical centres and factories etc.
Packed 5 Litre