This catering blue roll is effective, versatile and budget-friendly cleaning consumables? Choose this pack of 18 x 2-ply blue rolls from Selco. These rolls are made from 2-ply laminated paper and feature an embossed pattern that gives them great strength and absorbency for cleaning up spills ensuring staff can quickly restore the surfaces back to their best in no time!
Thanks to the centrefeed design, these blue rolls can be paired with the matching selco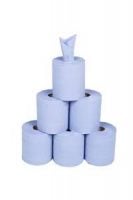 centrefeed dispenser (sold separately), or used on its own for on-the-go cleaning. This centrefeed design helps to minimise paper wastage too – meaning staff will use fewer sheets per clean to save you money in the long run!  and because of their generous length, each roll will also last longer, ensuring you're never low on paper when you need it most!
a 2ply laminated embossed roll
6 Rolls per case and 3 packs per deal.
18 Rolls of centrefeed,