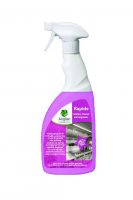 Disinfectant Surface Cleaning Spray – Car Care – Selco Ireland
In Stock- Order Online – Free Delivery Over €100
Product Features:
Rapide is a certified sanitiser virus spray 6x750ml 
• BS EN 1276 certified solution with a required contact time of only 30 seconds.
• A sanitiser cleaner and degreaser that has been developed for use on all water washable surfaces.
• Rinse-free, non-perfumed and non-tainting.
• Ideal food surface preparation product.
Protection From XBB.1.5
Because it is a food safe cleaner it can be used on ALL hard surface for all cleaning and disinfecting.
Total Protection for all your surface cleaning Kills and Protects Against Viruses.
Packed 6 x 750ml spray per case.
Great for all school desks and all surface cleaning,
NB:    RAPIDE IS ALSO AVAILABLE IN 5 LITRE CONCENTRATE