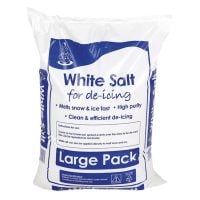 DE ICER SALT  ( NOW 20Kg BAGS)
Our Pure White De-icing Rock Salt 20KG Bags can be used to prevent Ice on Paths, Driveways, Car Parks, Roads, and is even suitable for Grit Spreaders.
White Rock Salt is made from evaporated sea water, salt pans or salt beds are flooded and then left in the heat of the sun to evaporate the water leaving a salty deposit behind, this process is repeated until the salt deposit is big enough to harvest.
The salt is in large granules and is mostly used where cleanliness and hygiene is important as it is more pure, leaving very little residue. White de icing salt is preferred by schools, retail outlets and hospitals and can be spread manually or by using a mechanical spreader on paths, roads, car parks and play grounds etc.