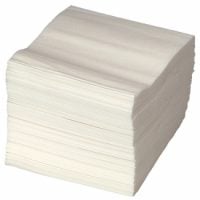 Bulk Pack Soft Toilet Tissue: : Soft white Tissue 2ply 9000 sheets – Folded toilet paper system 
To dispense next sheet in use. Portion control, dispenses one sheet at a time offering superb cost in use. Attractive dispenser, holding high volumes. Easy to refill and maintain without waste. Soft 'Hand Feel' combined with strength.
Each toilet tissue is individual and being interleaved is presented fully open once dispensed.
The user can only pull one sheet at a time making this a controlled use product and very cost effective with little or no waste paper. The dispenser will take 2 sleeves of 250 sheets per fill at a time giving 500 toilet tissue leafs from such a small dispenser. The dispenser can also be topped up at any time. This ensures no waste of paper.
36 x 250sheet per pack 9000 sheets
Fits Tork Dispenser