Disinfectant Surface Wipes.
Are constructed from non-woven fabric containing an alcohol- based solution which is very effective against a wide range of bacteria and fungi.
The wipes are food safe and suitable for all sanitising applications.
They are mainly used in the medical, pharmaceutical and food industries.
Great for prevention of germs once used to wipe the surface.
Available in 150, wipes per tub.
wipe size 200 x 200mm
ONLY in 15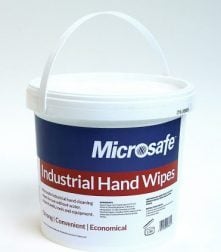 0 per tub
Due to high demand a similar product may be supplied.