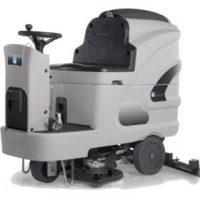 Description
The Industrial Scrub 85D is a battery powered ride on scrubbing machine, offering high performance for both maintenance and heavy duty cleaning of profiled surfaces.
The S85D is extremely versatile thanks to its compact size. It is ideal for use across a variety of sectors and is suited to smooth floor types.
Full accessibility to components allows for easy maintenance.
This machine comes with a 9 month warranty.
Starter kit of 20lt floor cleaning solution
Option of Scrub Brush or Disc & pads.
Details
Fresh water capacity 110 Ltr
Dirty water capacity 125 Ltr
Suction width 108.5 cm
Working width 85 cm
Noise level 60 dBA
Power 24 V
Weight 223 Kg
Productivity 5,100 m2/h
Dimensions (L x W x H) 149x68x132 cm