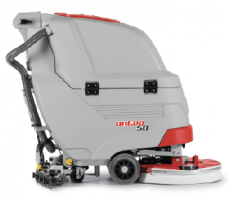 The Comac Antea Range are a high performance, easy to use, walk-behind scrubbing & drying machine.
Perfect for fast and effective professional cleaning of floors in offices, hospitals, retail environments, public buildings, restaurants, hotels, sports facilities, supermarkets as well as production facilities.
The Comac Antea range was uniquely designed to be robust, resistant & reliable.
Combined with these characteristics, Antea has improved productivity & dramatically lowers the cost of cleaning operations Due to its design features, Antea is suitable for maintaining floors & heavy duty cleaning of floors up to 2300 sq.m
Built in Battery Charger.
All machines come complete ready to go with cleaning solution and floor pads.
Refurbished Used Machine,