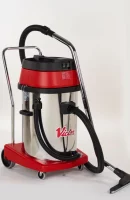 Victor WD60  Wet and Dry Industrial Vacuum Cleaner with Stainless steel body and 2 x 1000 watt motor,
Strong and Quiet Commercial Wet/Dry Vac,
Powerful twin motor suction vac with steel bodied container finish.
Ideal for floor cleaning, machine maintenance, boiler cleaning, metalworking dirt, high level cleaning and general dust and dirt removal.
Also available with 3 motors Just ask. (Special Order)
This work horse is an essential in all your cleaning jobs in School, offices, and Washroom the best in wet or dry pickup.
Victor Floor Cleaning Machines at Selco Hygiene Outlets in Ireland
Quality built machines for over 50 years
The Caretakers Choice
Serious Suction with twin motors