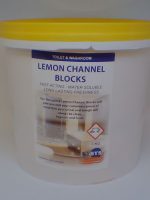 Dysys Toilet cubes (Urinal Blocks) PER 3KG BUCKET. Lemon channel blocks for keeping your toilets smelling fresh.
Now with formulated active cleaning agents into a safer, less environmentally damaging water-soluble urinal block that maintains clean, odour-free urinal-traps and pipes.
Each time the urinal is used, water softening and cleaning agents are delivered into the trap to clean and maintain the pipework to prevent odours and blockages.
Each 3kg bucket contains 145 blocks average.
Available in yellow