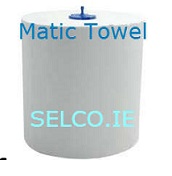 T-Matic 290016 – T Matic Soft Hand Towel (H1) White 408sh
Hand Towel Roll Matic 21cm 145m 2-ply Bright White Advanced Hand Towel Roll 6 Per Case
T Matic Hand Towel Roll White soft is a high quality professional hygiene product, packed 6 rolls per case and 145mt per roll But ONLY half the price of the original towel, A Great Hand Towel and very COST effective from Selco. Save with Selco Hygiene Supplies Nationwide.
A High Quality Hand Towel Roll Alternative to the Original, But Much Better Value from Selco.
A High Quality Roll Hand Towel.
Packed 6 rolls per case,
Suitable for Tork Dispenser But with BIG saving€