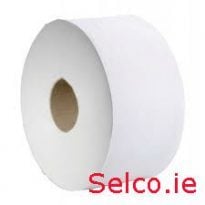 Mini Jumbo Toilet Rolls 2 ply Quality Soft Toilet Tissue. 100% Tissue.
Guaranteed not to block toilets.
Mini Jumbo Toilet Rolls 3″ (76mm) 12 Rolls Per Case
This 2 ply mini jumbo toilet roll is made from 100% PURE tissue and is accredited.
Each roll contains 640 sheets approx and is very long. One pack contains 12 mini jumbo toilet rolls.