Monthly Archives:
May 2020
We have the Foam Hand Sanitiser with a Hands Free Automatic Dispenser @ Selco.ie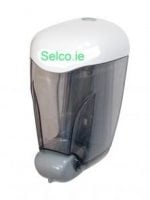 Our standard bulk soap sanitiser dispenser gives any washroom a professional and cost-effective option.
This modern design will complement any washroom decor and encourage hygiene in use.
Easy to use, refill and dispense.
Can easily and securely be fixed to any wall using kit provided.
Strong hard wearing plastic ensures long life.
800ml dispenser.
Lockable.
We have a Great Deal in Hand Sanitiser with 4 Dispensers for your shop, office, school, factory, business,
Keep your staff and customer safe with alcohol hand sanitiser gel.
We also have an ALCOHOL FREE if needed,