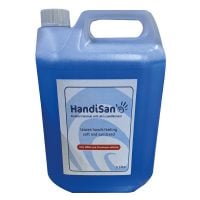 This is a Alcohol Based Hand Gel. 65-70% Handi-San
Gel Hand Sanitiser ideal for Refill of your Dispenser or pump bottles.
Will reduce your cost by up to 50% with Refill.
This is a high quality safe ipa alcohol sanitiser 70% that will help prevent the spread of germs and viruses.
Alcohol-based hand sanitiser
Kills 99.0% of germs – 15 seconds
No water or towels needed
Denatured alcohol-based hand sanitiser.
Effective quick drying sanitiser.