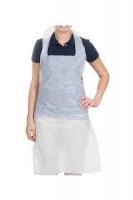 Disposable plastic aprons  strong 100 per pack.
Our single use disposable aprons are liquid resistant and prevent the transfer of fluids,perfect for catering, cleaning, dentistry, first aid and medical procedures.
The flat pack packaging allows the easy non-stick hygienic removal of each apron.
Halter neck and waist ties on each apron.
Flat packed for easy storage. Save time and reduce your laundry costs by never washing aprons again. Prevent bacterial contamination and control infection by disposing of your apron when changing environments.